IPC machine DFI to deepen deployments inside AIoT, 5G
IPC producer DFI to deepen deployments in AIoT, 5G
Ninelu Tu, Taipei; Willis Ke, DIGITIMES
IPC manufacturer DFI, an affiliate marketer of Qisda, noticed its profits for the very first four a few months of the season capture up 41.86% on calendar year to NT$2.862 billion (People$95.40 million), the highest for the exact same time period on report, and it shall step up deployments in AIoT and 5G apps, according to company sources.
Peter Chen, chairman of both Qisda and DFI, said the impressive growth was due mainly to synergies emerging from DFI's acquisition of Aewin Technologies, a web security solution provider, in March 2019, as well as buying stakes in Ace Pillar, a distributor of industrial automation systems, in Octoctober of the year in.Chen said the synergy efficacy will continue to deepen in the second quarter and second half of the year, but shipments of embedded computing solutions to the US and Europe may be dented in second-half 2020 as many casinos in the regions remain closed due to the coronavirus pandemic.
Chen pointed out that through the resources injection and integration by the Qisda Group, DFI provides turn out to be the largest shareholder in both Advisor and Aewin Pillar, allowing it to further extend its business tentacles into the web security market and the smart production solutions distribution sector in line with the group's comprehensive deployments in AIoT and 5G applications.
DFI president Steven Tsai also said that his company and Aewin will jointly move to develop new products such as software-defined wide area network and web security gateways as they have completed integration of manufacturing and procurement resources.
DFI will also help Ace Pillar upgrade its mechanical and electrical engineering integration and distribute a wider range of industrial automation and smart manufacturing solutions with higher gross margins seeking to further boost revenues and profitability.
Tsai stressed that DFI will strengthen its deployments in smart manufacturing, smart mobility, and smart healthcare applications with the eventual goal that these applications will contribute over 60% of its revenues.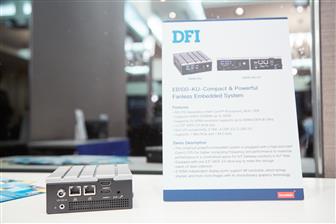 DFI eyes the potential of AIoT and 5G
Photo: Digitimes file photo